NFSUN 2021: Science Education in the light of Global Sustainable Development – Trends and possibilities
NFSUN 2021 will be arranged by VIA University College Aarhus, Denmark, as an interactive online symposium June 1.- 2., 2021. The decision to move the conference online is made in consultation with the Danish authorities, and it is a final decision.
The NFSUN 2021 theme Science Education in the light of Global Sustainable Development clearly signals the reference to contemporary issues of vital importance globally.
Link to the NFSUN2021 conference page, with the detailed program etc.
Be aware, that the planned two-days online symposium is the result of a prolonged period of planning, with a planned 2020-symposium in Aarhus, which was first postponed and then transformed to the online format. Therefore, quite many administrative work hours have been needed and the price (e.g. 1800,- d.kr. Early Bird) might seem a little high. This is however needed to balance the budget. We hope for your understanding – and participation – which is crucial for NFSUN.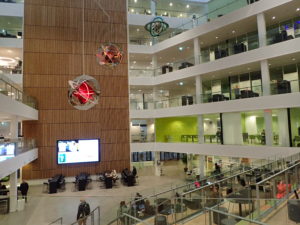 It is online, but moderators from the organising committee will still be sitting at VIA Campus C (the picture), to convene the sessions in the best way.
Proceedings
Presenters are invited to contribute to the NFSUN 2021 e-Proceedings which will be published at this webpage. The deadline is August 15th 2021.
This manuscript is submitted by email to NFSUN2021@via.dk